Latest news
From January 2019
Timbertop Wheels has ceased production and Joan & Clive of Woodland Turnery have now retired. No further Wheels will be made and no further orders taken or details given out re Prices for Timbertops wheels. (However we do have a few brass bearings still in stock)
December 2018
We were unexpectedly advised last night that the proposed new owners of Timbertop Spinning wheels had pulled out of the purchase. Clive and I have talked it through and decided that we have tried for 8 months to find a suitable person to take over and now we need put things behind us, move on and get on with living our lives and doing what we want to do! So Timbertop Spinning Wheels are retiring with us.
We have one TT Thurmaston 24, one TT Thurmaston 18 and one Thurmaston Suitcase wheel to be renovated and then they can move on to a new home as they are no longer needed as a sample wheel for the new owners. If you are interested let me know by email at office@woodland-turnery.co.uk.
They were also going to buy the remaining Woodland Turnery stock, so this is now back on the Folksy shop (https://folksy.com/shops/Woodlandturnery) and the machinery they were going to buy is all going to the local Auction house with the rest (except for the bit Clive keeping) early January.
Conforming to Data Protection Laws - No email addresses or personal details were passed to them re folk interested in new wheels
November / December 2018
Although we cannot make a formal announcement yet, we are trying to speed along the transfer of Timbertop Wheels to the new owners whilst waiting for funds and paperwork to be finalised
The new Owners are eager to keep Timbertop as they are at present (ie no tweaking the wheels)
They are both Wood Turners and they are very skilled in what they do at present
They understand the history of Timbertop wheels and want to act as guardians of the Timbertop name for the foreseeable future and take the business forward.
So …….we are making a list of all folk potentially interested in having a New Timbertop wheel within the next eighteen months or so. I already have the names etc of some folk who have expressed an interest of going on the waiting list but it would be great if all folk interested could email me at office@woodland-turnery.co.uk subject line waiting list Timbertop. With your name, email address, country and the wheel/s you are most interested in going on the waiting list for. I can then check this off with the list I have and add to it and pass the details on to the new folk so they can start planning ahead while we are waiting for funds to be fully available to fund the transfer of business
April 2018
I am announcing this here as we have already told a number of folk at Wonderwool and this obviously spreads rumours.
As many of you know we bought Timbertop Spinning Wheels on the 8th Decmber 2008 (9½ Years ago now) and despite various setbacks with the workshop fire and Clive having two hip operations and a AAA and me having concussion and also a cataract opereration, we have enjoyed the time and the challenges.
However, we have decided that once our latest batch of deposit paid orders ( which are all partially made and these will have priority with Clive's time) are completed by October/November of this year that Timbertop Spinning Wheels will hopefully have found a new Owner. So we are beginning our search for a suitable new Owner now. If you are interested yourself or know anyone that may like to keep the wonderful name of Timbertop Spinning Wheels alive, let us know or tell them to contact us as soon as possible or if you have any suggestions as to who we should contact to find a suitable owner let us know.
The person needs to be a good wood turner with an eye for precision, have preferably made a spinning wheel and know how they work. Also know how to spin or know someone that spins so that they can assist in 'test spinning' to ensure completed wheels work well.
The person buying the business will get as much assistance as we can give to help them on their way. We feel it is important and a wonderful opportunity to find someone who will move the business forward and who can fulfil the dreams of the folk who are already waiting for the order list for a Timbertop Wheel to be re-opened. It would be such a shame to see it dwindle away.
We have closed the waiting list for Timbertop wheels indefinitely, folowing Clive's AAA operation last year, we plan on endeavouring to complete those wheels that have had a deposit paid. This is to reduce pressure on Clive and make it easier for him to work.
We will no longer be issuing pricelists,
All wheels now go out with both Double Drive and Scotch Tension fitted. The new Scotch tension is also much more user friendly than the previous system.
A Timbertop Brochure can be found here
TT Jubilee with additional stubbies/finials (28" wheel)
Normally made in Oak or Cherry but this one is shown in Lacewood (London Plane)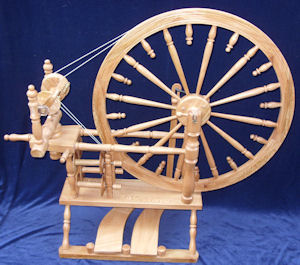 ~~~~~~~~~~~~~~~~
TT Leicester (24" wheel)
single treadle
Left-hand flyer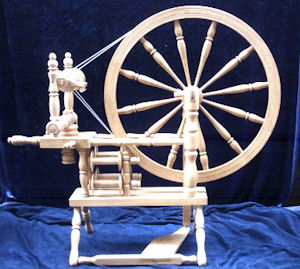 ~~~~~~~~~~~~~~~~
TT Leicester double treadle
Right hand flyer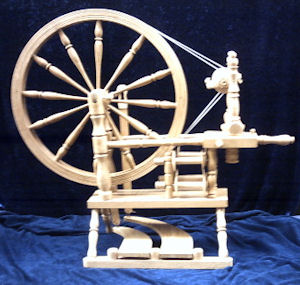 ~~~~~~~~~~~~~~~~
Thurmaston 24 (with additional stubbies)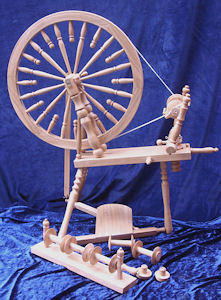 ~~~~~~~~~~~~~~~~
TT Chair Wheel 2011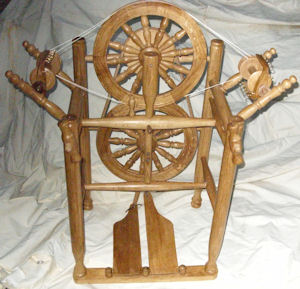 This wheel can be set up with one or two double drive bands. This is set up for customer ready for teaching or as a gossip wheel as there are two drive bands already on wheel .
~~~~~~~~~~~~~~~~
TT Beaver