Joan and Clive Jones have worked with wood since 1974.
In 1983 Joan started learning Pyrography,using a wood burning soldering iron, before moving on to using a Peter Child Hot wire machine and then a Davan Twin nib Hot wire Machine. Joan still manages some pyrography (decorating spinning and weaving accessories) in between other jobs in the business but now also spends more time working on her lathe too.

In 1984 Clive started Wood-Turning using only a lathe attachment for his drill. The next year Clive acquired a 36" bed Coronet lathe and now has 2 electric lathes. Clive use to turn anything from small lace bobbins to four poster bed legs but now concentrates on making and repairing Spinning Wheels & accessories.
Commissions were quite varied and could range from a batch of wooden onions for BBC Radio Wales, to producing the Cheese Stretchers and Cheeses for Caerphilly's notorious 'Big Cheese' Cheese Race, to the pyrography on the Ram's Horn handle of a shepherd's crook for Archbishop Desmond Tutu and the Bowls made by Clive which were pyrographed and painted by Joan with Shire Horses as perpetual awards for the South Wales Shire Horse Society in memory of Charles Brown ('Charlie')

We have organized and built up the Working Craft Marquee at the Caerphilly 'Big Cheese' from it's inception in 1998 until we decided that 2009 was to be our last year at the event and we handed over the organising to Penny & Ian Thyer.
Our two Daughters have been learning crafts since they were small and now have a working knowledge of well over 50 different crafts.
From July 1993 until 2003 the family demonstrated various crafts at the Museum of Welsh Life (National Museum of Wales) at St Fagans (Nr Cardiff) and at many other events across Wales, England and Scotland. Also from 2002 until Autumn 2009 we held regular workshops teaching both Wood Turning and Pyrography.
In more recent years we have also carved and turned many parts of the shop fronts in Blaenavon when they were renovated following World Heritage status
In 1993 Clive made his first spinning wheel and then in 2001 (the year of Foot & Mouth) we started attending Brecon Farmer's Market and with meeting various smallholders at the Market, who did spinning, we began a new venture -repairing spinning wheels. In 2007 we expanded this with a range of spinning and weaving accessories which is ever growing and also purchasing then renovating/repairing spinning wheels for sale.
The end of 2008 saw us take on our biggest venture so far when we bought Timbertops Spinning Wheels from James and Anne Williamson
For many years we have specialised in using Welsh or locally grown hardwoods. Our Timbertops Wheels are made using beautiful Welsh Oak also Cherry and occasionally London Plane (Lacewood).
Now we specialize in our Timbertops Spinning Wheels, Reconditioned spinning wheels for resale and also repairing wheels, making new/spare bobbins etc for customers and making a good range of spinning & weaving accessories as well as sock blockers and crochet hooks. Every now and then we add something else to our range so if there is something you cannot get let us know. This is how we added Naalbinding needles and Aubusson bobbins to our collection.
Also pleased to say that in 2016 our drop spindles are now sold by two suppliers in Netherlands and we keep it to just one (other than ourselves) in UK In turn pleased to say we now hold a selection of Bogway Spinners (made by Lowlands Legacy in the Netherlands) and these are proving quite popular. .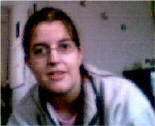 Lindsay (our younger Daughter) has taken her love of enjoying and teaching crafts (mainly Wood Turning, Pyrography and Wood Carving) and combined it with her studies. She has gained a BTEC National Diploma in Land Countryside (Forestry Option) which included certificates for the use of chainsaws and spraying, and has gained a 2.ii Degree in Information Technology and Environment studies at University. She is now married to Tam and is a full time Mum to the youngest member of the family but when time permits helps as a consultant for this website.
We are pleased to say that since Tam joined the team, he has been a valued member.He can be seen here with dear old Chumly at one of the Wood Fesivals.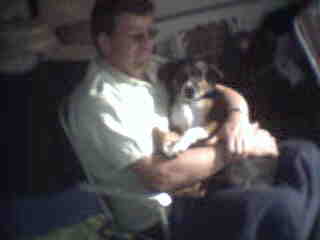 ETA although Lindsay and Tam are now very busy with their own family, they are still there for us if we need assistance with the business or webpage
---
Sian (our elder Dughter) and Chris are both very busy with their Family and careers but enjoy assisting us by cutting our Sheep Lazy Kate (Katie and Bertha) blanks, sock blocker blanks and the needle/crochet hook size gauges on their laser cutter. Which saves us quite a lot of time. Sian makes our stitch and crochet markers and also our scissors keepers. She sometimes has items under her business name of Deesis Designs (her Folksy shop) and they have a Facebook page too
---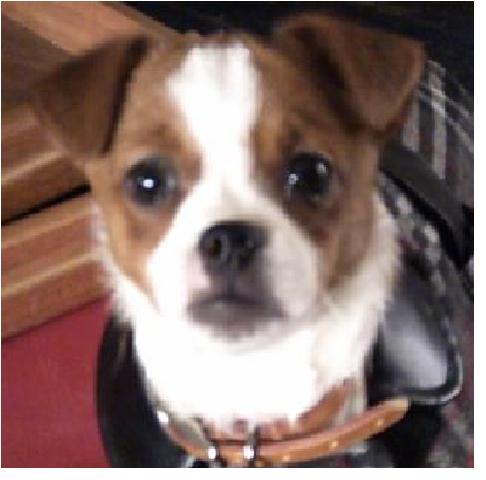 Hi I am 'Billy'- I am ¾ Jack Russell and ¼ Japanese Chin. I took over from Chumly when he passed on to Rainbow Bridge. I like being guard dog at the shows and at the our workshop.It's quite hard work but I am allowed to have a snooze now and then as long as I keep one eye on the job.I even have my own fan club as people often say they visit the workshop to see ME not the rest of the WT Gang!!
ETA Regretably Billy passed on to Rainbow Bridge on 2nd February 2016.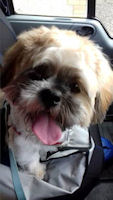 Hi my name is Star and I arrived with the family on the 31st Otober 2016. I am a Shih Tzu (born September 2016) I am learning the ropes quite quickly and I love meeting people and other dogs, I have already started getting a fan club :-) I haven't been in Mum's workshop yet but if I am very good I am allowed in Dad's. Although I sometimes sneak in unofficially and just make sure that the small bits of wood are ok for the fire basket.