Wheels restored/renovated
ST Single Treadle; DT Double Treadle
SD-ScT Single Drive Scotch Tension;
SD-IrT Single Drive Irish Tension
DD Double drive
~~~~~~~~~~~~~~~~~~~~~~~~~~~~
First a little bit about our renovated/reconditioned wheels.
All wheels has been completely dismantled (where possible), thoroughly cleaned, repairs done if necessary, bobbins made or purchased to bring it up to at least 3 or 4 bobbins. It is sanded and stained with wood dye to freshen the colour then Danish Oiled. Then it has new hooks, scotch tension if required and cord. Once completed the wheel is then oiled to lubricate and then a test spin is done to ensure it does actually work. Which is why we can guarantee they all work and are not just spinning wheel shaped objects. (We don't just service a wheel we do a complete job!)
RECONDITIONED
~~~~~~~~~~~~~~~~~~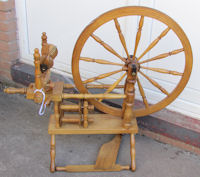 Timbertops Leicester (2009)
ST DD (with ScT fitted)
(includes 5 bobbins)
Sold
~~~~~~~~~~~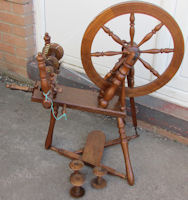 Timbertops Thurmaston 18"
ST DD (with ScT fitted)
(includes 4 bobbins)
Available
~~~~~~~~~~~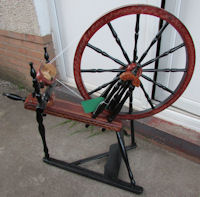 Large 24" Saxony Style (Scumbled)
ST DD
(includes 3 bobbins)
Available
~~~~~~~~~~~~~~~~~~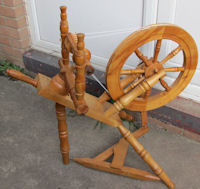 Polish Saxony style
(includes 3 bobbins)
ST DD
Available
~~~~~~~~~~~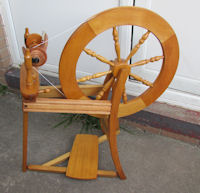 Ashford Traditional Newer style
(includes 5 bobbins & 3 speed whorl)
SD ScT
Sold
~~~~~~~~~~~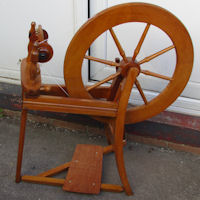 Ashford Traditional Older style
(includes 4 bobbins & 2 speed whorl)
SD ScT
Available
~~~~~~~~~~~
Small Saxony (approx. 17 1/2" wheel)
ST DD
Available
~~~~~~~~~~~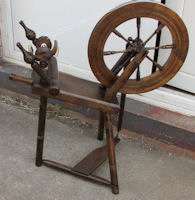 Haldane Hebridean Mk1
ST DD
(includes 3 bobbins)
Sold
~~~~~~~~~~~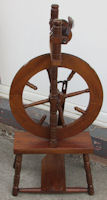 J.A.N.Burra
ST DD
(includes 3 bobbins)
Available
~~~~~~~~~~~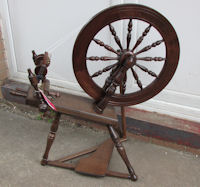 Ashford Elizabeth I (New and unused except for test spin) in Walnut colour
ST DD (with ScT fitted)
(includes 4 bobbins)
Good value for money excellant price
Available
~~~~~~~~~~~
Haldane Lewis
Sold
~~~~~~~~~~~
Haldane Jumbo Flyer, 4 Jumbo bobbins, Lazy Kate
Sold
~~~~~~~~~~~
Wheels etc still to be reconditioned/repaired as and when
we are able to complete the work to be done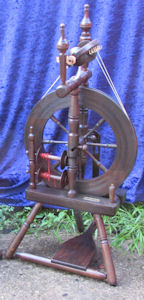 (similar to this one)
Haldane Shetland Mk 2
Sold
~~~~~~~~~~~
Westbury
~~~~~~~~~~~
Haldane Shetland Mk 1
Sold
~~~~~~~~~~~
Timbertops Beaver
Ordered
~~~~~~~~~~~
Timbertops Chairwheel
Sold
~~~~~~~~~~~
Timbertops Leicester
Provisionally ordered
~~~~~~~~~~~
1 Ashford Traditional
~~~~~~~~~~~
Camelot
~~~~~~~~~~~
Stock is constantly changing please telephone or email for details
---
---
Contact us at
Or
Woodland Turnery
35 Lodgewood, New Inn,
Pontypool, Gwent NP4 8EQ
---