Latest news
May 2013 (2)
Yesterday spent a wonderful day with the Montgomery Guild. We both really enjoyed the visit. Some of them enjoyed trying out the Timbertops Spinning Wheels and also having some unrushed time to browse the sales table. Many also took advantage of the Wheel Surgery and lots of wheels went home running a little smoother and happier. Surprising how many minor problems can be sorted out quickly and it often makes spinning so much easier.They all seemed to enjoy my talk too. Don't forget if you want us to visit your Guild we only charge for travel- just give us a phone call and you may be pleasantly surprised how little it costs for us to come, even the Guilds in Scotland can benefit as we have a base near Stirling.
May 2013
Back from a very enjoyable Wonderwool now busy getting the Thurmaston orders dealt with so that we can get them out to our eager customers.
This Saturday 11th May we are looking forward to visiting the Montgomery Guild of WSD for the. The following weekend 18th/19th we shall be at the Royal Welsh Spring Festival in the Floral Hall. So if you missed Wonderwool you can catch us here with our wheels and spinning and weaving accesssories together with our gift ware.
April 2013 (update)
Almost ready for Wonderwool. Just about to pack boxes with all the last minute stock. Then to get the camping stuff out of loft ready to go in van. Have 8 recondiitoned wheels done and there will be three Timbertops on display. The Leicester, Thurmaston 24 and a Lonsdale.
Will also have a TT Leicester with us that has been converted for a Left Handed Spinning Customer.
April 2013
Progressing with the Timbertops wheels now. The first Thurmastons are looking good. Also been busy doing lots of repairs to spinning wheels and making replica spare bobbins for Peacock, Haldane, Dryad, Original Rappard Wee Peggy and Timbertops wheels as well as getting ready for Wonderwool, which is fast approaching.
The office/workshop will be shut for a week (reopens Saturday 13th) as we have to help out Family and it is a good time for us to have a few days off, before the show schedule starts.
We will still be answering emails and you can leave messages on answer phone or phone the mobile if more urgent.
Should be back in time for Farmer's market at Brecon on the 13th.
March 2013
Had an enjoyable time at the British Alpaca Futurity Show now busy building stock back up for
Wonderwool Walesl
February 2013 (additional news)
Have heard recently from a Customer in the Falkland Islands that the parts of the spinning wheel that we repaired and remade have now been reassembled on the wheel and it is successfully spinning and plying now. Another happy Customer!! (Approx. 8000 miles away!)
February 2013
This year is flying by already. Been busy with making parts of the first batch of Timbertops Thurmaston Wheels, spare bobbins, repairs and renovating some wheels.
Already got first two wheels booked in for the wheel surgery at Wonderwool.
December 2012/January 2013
We would like to wish all our Customers a Merry Christmas and a Happy New Year.
The office and workshop are closed until 3rd January 2013. The office answering machine is picking up messages until then however we are answering queries on the mobile number from the 27th until the 30th December.
.
December 2012
Been a very busy November and December mainly trying to obtain the various bits we still needed for the Timbertops Wheels. Just been informed last lot of metalwork is now made and just have to arrange to travel up to inspect and collect it.
Have had a number of wheels and parts of wheels in for repair. Also 'made to order' a number of spare bobbins including for the Original Rappard Wee Peggy. So we now have a spare on the shelf as a template for future orders. Contact us (by phone or email) if you are interested.
Also got quite a range of wheels to recondition so keep popping back to that page as things are changing all the time. Just about to put a 'brand new' Ashford Elizabeth I and a Kromski Polonaise (now ordered) on there. Have an Ashford Traditional that I am doing up as well as a Frank Herring and it's forerunner (a Shapwick Blaise), a Westbury, a Haldane Hebridean and a Norwegian Saxony style.
October 2012
We had a lovely time with the members of Tynedale and Clydecoast Guild of WSD. Also despite the weather we enjoyed the day at Alloa Resonate Arts and had an absolutely superb time at the Scottish Smallholders Show where we were made most welcome. Back now to trying to get ourselves organised in the workshop again.
August 2012
Despite the rain we had an enjoyable Fibre East and we are busy catching up on re-building stock, completing orders, repairing wheels and making spare bobbins. Also beavering away at organising supplies, (timber,metalwork and leather) and planning the making of new jigs for the restart of making the Timbertops.
Have also just been arranging further details for an exciting trip to visit Northern & Scottish Spinners & Weavers in September (see the Bookings column)
Guild talk bookings & enquiries already coming in for 2013, so a busy year ahead.
July 2012
Almost ready for Fibre East where we shall again be running a Wheel Surgery. However this year we shall be in our own Marquee (hopefully with Welsh Flags flying). We shall have a display of Timbertops Spinning Wheels for people to try (and order if they wish) together with a selection of reconditioned wheels for sale as well as a good range of spinning and weaving accessories.
Don't forget to bring along those bobbins you want replicated or any other spinning /weaving items (wheels included) for repair that you want us to look at.
June 2012
We are in the process of preparing for Woolfest where we shall again be running a Wheel Surgery and a workshop on understanding your spinning wheel on our stand. We shall have a display of Timbertops Spinning Wheels for people to try (and order) together with a selection of reconditioned wheels for sale as well as a good range of spinning and weaving accessories.
We are definitely back up to speed and open for business now so don't forget to bring along those bobbins you want replicated or any other spinning /weaving items (wheels included) for repair that you want us to look at.
May 2012
We also had an enjoyable weekend at the Royal Welsh Smallholders Show where Joan was demonstrating Pyrography and we had our complete display of giftware, spinning wheels and our spinning & weaving accessories. We were quite surprised to meet members of the organising committee of the Scottish Smallholder Show who invited us to take part in their show on the 30th September 2012.
April 2012
We would like to thank everyone for the unbelievable support you all gave us at Wonderwool Wales. It was a very emotional show for us but did us good to talk about the workshop fire and life afterwards. Clive is now busy completing orders for repeat bobbins and repairing wheels and I am busy building stock again ready for Woolfest and Fibre East. Neither of which are far away. We are also trying to sort out the requirements for making Timbertops wheels again. We are definitely moving forwards again!!!!
Wonderwool Wales 28th/29th April
We shall be at Wonderwool on stand P5 so bring along those bobbins to be replicated and the 'sick' wheels to our 'wheel surgery' (running 10am to 12pm and 1pm to 5pm both days) for Clive to look at them. Want to know more about your spinning wheel book Joan's woolschool session 12pm to 1pm both days 'Understanding your spinning wheel'
Also some very exciting news
We are thrilled to announce that Nielanell, knitwear designer, (see www.nielanell.com ) is making a flying visit to Wonderwool Wales from her studio at Hoswick, in the Shetland Isles. She will be on the Woodland Turnery stand between 3pm and 4pm Saturday and Sunday to chat to visitors about her inspiration and innovative designs. Call by and see Niela and pick up one of her leaflets (she does mail order). Niela will only be in Wales for a few days so make the most of it.
April 2012
This month,already, with a lot of support (in many different ways) from Family, close Friends and Ravelry Friends, we are now moving forwards with the recovery of Woodland Turnery. Thanks to some special friends we are setting up a new workshop with the equipment we need to make a start. Our first customers are expected to visit within a few days. This certainly is the new beginning that Easter & Spring brings.
Tuesday 27th March 2012 started at 5.45am with a devastating phone call telling us our workshop was on fire! We jumped in the van & dashed the three miles to the workshop to see the flames going through the roof. There was nothing we could do it was all gone!! Tuesday and Wednesday were very black days for both of us but our Family rallied round us and so did our many good friends including those on Ravelry who gave us enormous support and many offers of help including replacement equipment. Also another wonderful long term Friend also offered tremendous assistance with restocking a replacement workshop to get us up and running asap whilst waiting for Insurance to be sorted.
So the latest news is we hope to be up and running in about a month from the fire. First we shall be doing repairs and making replacement bobbins. Whilst also tackling the big job of making new templates for the Timberotps Spinning Wheels, but we shall still be at all Wonderwool Wales, Woolfest and Fibre East this year!!
Pleased to say that we have been accepted for Wonderwool Wales 28/29 April, Woolfest 22/23 June and Fibre East 14/15 July 2012.
At each of these shows, as usual, we are planning on having our range of Timbertops Spinning wheels on display for people to try, a selection of reconditioned wheels (various makes) for sale.Also our range of spinning and weaving accessories, beads etc for sale.
Clive will also be running a wheel surgery at each show, so bring along those 'sick' wheels.
At Wonderwool Wales Joan will be running a one hour workshop about getting to know your spinning wheel.
Reminder also,we run a bobbin replacement service, if you need spare bobbins, bring one along for us and we will post it back with the extra bobbins after the show. (Saves postage one way!)
December 2011/January 2012
We would like to wish our Customers a Merry Christmas & a Happy New Year.
Workshop/Office will be closed from lunchtime 23rd December 2011 and reopens on 4th January 2012
During this period in the first instance send an email or leave a message on the answering machine (if you leave your name and phone number clearly we will return your call - when possible) Or if more urgent ring the mobile between 27th and 30th December or from 2nd January, again if necessary leave a message and we will return your call.
November/December 2011
Busy getting repairs to Spinning Wheels done and also making new Timbertops Spinning wheels. Bookings already coming in for talks/wheel surgeries at Guilds in 2012
October
Getting ready now for the All Wales Event at Llanidloes and also the Hereford WSD Guild day and starting to get some enquiries in about group talks/wheel surgeries for next year as well as the paperwork for next years's shows! In the midst of all this busy making new Timbertops Spinning Wheels, repairing wheels and building accessory stock too.
*Gift Vouchers*
Gift Vouchers are available in denominations of £1, £2, £5 & £10 not only for Christmas but all through the year and any combination of Woodland Turnery vouchers can be redeemed as part or full payment for spinning & weaving accessories, repairs or spare bobbin services, Timbertops Spinning Wheels and reconditioned Spinning Wheels and Looms (order by telephone with your card details)
*Timbertops*
Timbertops Wheels are now confidently moving forward with a steady momentum.
We are constantly checking our finishing and turning to uphold the original standard that James Williamson set. The Owners of 'Our' Timbertops wheels are pleased with the results and it is great when they turn to us and say "It looks like a Timbertops, It feels like a Timbertops and It sounds like a Timbertops Spinning Wheel."
You can find our more about Timbertops Spinning Wheels here
Our Spinning and Weaving accessories are as popular as ever and details can be found here
Also there is a constant demand for our quality reconditioned wheels and more information can be found here
It has been amazing this year to find the distances wheels have travelled with their owners or by carrier to be repaired see here for more details
---
Woodland Turnery's web shop can be found here http://woodlandturnery.misi.co.uk.
---
Find Woodland Turnery / Timbertops Spinning Wheels on Facebook Pages We are not responsible for external links
---
Follow us on twitter

---
Please note we have now discontinued our wood turning courses but may occasionally run a pyrography course
---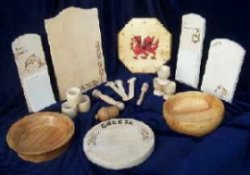 Here you can view our
Wooden Products range
Also find out more about our personalised gift service

Meet the Family

Visit our What 's on page.
It also shows you where and when we are going to be at places around the UK.

Got a comment for us then go to the feedback page

In the next couple of pages there is also a
Price list of our wooden products
---


If you feel that there is something that we have missed in making this web site, or you would just like to share your comments with us you can e-mail to Joan, Clive, Tam and Lindsayor go to our feedback page.


---
You are visitor number

since 12th of January 2005/
Contact us at Woodland Turnery
Or
Woodland Turnery
35 Lodgewood, New Inn,
Pontypool, Gwent NP4 8EQ
---