Latest news
From January 2019
End of December 2018
We have put the nightmare of the past few weeks behind us and are moving on with the cleaning of all equipment no longer required, which will be going to Auction with HJ Pugh of Ledbury in their specialist woodworking auction on 12th January 2019. As soon as this is dealt with then we will continue finishing off the last couple of wheels and then Clive will concentrate on the bobbins/flyers he has to make/repair before the house goes up for sale. For those folk patiently waiting, we will deal these items, as soon as possible and nobody will get left out.
We would like to take this opportunity of thanking everyone for their kind wishes and also wishing everyone a Happy, Healthy and Prosperous New Year.
December 2018
We were unexpectedly advised last night that the proposed new owners of Timbertop Spinning wheels had pulled out of the purchase. Clive and I have talked it through and decided that we have tried for 8 months to find a suitable person to take over and now we need put things behind us, move on and get on with living our lives and doing what we want to do! So Timbertop Spinning Wheels are retiring with us.
We have one TT Thurmaston 24, one TT Thurmaston 18 and one Thurmaston Suitcase wheel to be renovated and then they can move on to a new home as they are no longer needed as a sample wheel for the new owners. If you are interested let me know by email at office@woodland-turnery.co.uk.
They were also going to buy the remaining Woodland Turnery stock, so this is now back on the Folksy shop (https://folksy.com/shops/Woodlandturnery) and the machinery they were going to buy is all going to the local Auction house with the rest (except for the bit Clive keeping) early January.
Conforming to Data Protection Laws - No email addresses or personal details were passed to them re folk interested in new wheels
November / December 2018
Although we cannot make a formal announcement yet, we are trying to speed along the transfer of Timbertop Wheels to the new owners whilst waiting for funds and paperwork to be finalised
The new Owners are eager to keep Timbertop as they are at present (ie no tweaking the wheels)
They are both Wood Turners and they are very skilled in what they do at present
They understand the history of Timbertop wheels and want to act as guardians of the Timbertop name for the foreseeable future and take the business forward.
So …….we are making a list of all folk potentially interested in having a New Timbertop wheel within the next eighteen months or so. I already have the names etc of some folk who have expressed an interest of going on the waiting list but it would be great if all folk interested could email me at office@woodland-turnery.co.uk subject line waiting list Timbertop. With your name, email address, country and the wheel/s you are most interested in going on the waiting list for. I can then check this off with the list I have and add to it and pass the details on to the new folk so they can start planning ahead while we are waiting for funds to be fully available to fund the transfer of business
October 2018
Please see side panel >>> to see our list of remaining shows before our retirement in November. We are doing hardly anything in the way of repairs now and we will not be replicating bobbins for a while as we have a couple more Timbertop Wheels to finish before we retire , once the wheels are done, Clive hopes to continue making a few bobbins as and when he feels like it, health permitting, even when we have 'retired' as wood turning was his hobby before our business. So he may keep his 'hand in' More on this later.
September / October 2018
It was nice to see so many friends and customers at our last Bakewell Wool Gathering. Now we are just tidying up the remaining stock boxes ready for our very last ever show at Kendal Wool Gathering at the end of the month.
July /August 2018
We had a wonderful time at our last Fibre East and on our way there took part in another exciting event but more of that at some time later (keep you in suspence a bit longer)
Mid July 2018
I am getting ready for Fibre East and Clive is working hard on the Timbertop wheels. Fibre East is the last show that we will accept bobbins for replication.
July 2018
Had a wonderful day at the Kennet Valley Guild on Saturday and really enjoyed ourselves. Wheel Surgery went well, helping people and getting folk back spinning is always a joy and sales went well too.
June/July 2018
We had a lovely time at the Tynedale Spinners Gathering and fitted in a quick visit to Scotland to see family. July sees us off to the Kennett Valley Guild on the 7th and then Fibre East at the end of July. Also watch out for the next issue (10) of British Fibre Art Magazine :-)
April / May 2018
I am announcing this here as we have already told a number of folk at Wonderwool and this obviously spreads rumours.
As many of you know we bought Timbertop Spinning Wheels on the 8th Decmber 2008 (9½ Years ago now) and despite various setbacks with the workshop fire and Clive having two hip operations and a AAA and me having concussion and also a cataract opereration, we have enjoyed the time and the challenges.
However, we have decided that once our latest batch of deposit paid orders ( which are all partially made and these will have priority with Clive's time) are completed by October/November of this year that Timberotps Spinning Wheels will hopefully have found a new Owner. So we are beginning our search for a suitable new Owner now. If you are interested yourself or know anyone that may like to keep the wonderful name of Timbertop Spinning Wheels alive, let us know or tell them to contact us as soon as possible or if you have any suggestions as to who we should contact to find a suitable owner let us know.
The person needs to be a good wood turner with an eye for precision, have preferably made a spinning wheel and know how they work. Also know how to spin or know someone that spins so that they can assist in 'test spinning' to ensure completed wheels work well.
The person buying the business will get as much assistance as we can give to help them on their way. We feel it is important and a wonderful opportunity to find someone who will move the business forward and who can fulfil the dreams of the folk who are already waiting for the order list for a Timbertop Wheel to be re-opened. It would be such a shame to see it dwindle away.
We will continue making spinning and weaving accessories stock throughout this year until November 2018 but running it down as the year progresses. You can either catch up with us at the shows or order on Folksy or on the phone. We are still planning on attending Tynedale Spinners Gathering (May) , Fibre East,(July) Bakewell & Kendal Wool Gatherings (both in October), as well as the the Kennet Valley Guild (July) and the York Guild (November). However we have had to cancel the proposed visit to the Wiltshire Guild in February 2019. Last orders for replica bobbins etc will be taken in September/October 2018 for completion in November 2018.
We plan to have closed the workshop doors for the final time in November/December and (God willing ) be heading for pastures new in Spring/SuScotland and Yorkshire.
March /April2018
Pleased to say we have been accepted for a stand at both Bakewell Wool Gatheing and Kendal Wool Gathering . Busy getting ready for Wonderwool Wales. Lots of wheels to recondition and some other items to finish off.
Late February 2018
Well we had a wonderful day with the Dorset Guild yesterday. Clive dealt with a lot of wheels in his surgery and sales were good too and they seemed to enjoy the talk too. Also the Blending boards were very popular so better get on with making more ready for Wonderwool.
Anyway, we are happier that we managed to attend as we had to cancel our previously planned visit last September due to circumstance re Clive.
February 2018
Already into February and trying to catch up with empty spaces in the stock box before we give our first talk and wheel surgery this month. Have heard we have been accepted for Fibre East and also just got a booking for a sales table and wheel surgery at the York Guild's November meeting. Getting a few of the wheels repaired ready for renovating them too.
NB Please check our events calendar as we will NOT be attending Woolfest or Yarndale this year but hope to see you all at one of the other events.
January 2018
Busy start to the year. Have added a load of secondhand books to the bottom of the recon wheel page. Also been invited to attend the Tynedale Spinners Gathering in May so with our invitation to attend the Dorset Guild (February) and the Kennet Valley Guild (July) as well as the shows we intend to do if accepted, its going to be quite a busy year.
Please check our events calendar as we will NOT be applying for or attending Woolfest or Yarndale this year but hope to see you all at one of the other events.
December 2017
Well here we are on the last day of the year. We hope all our customers and friends had a good Christmas and we would like to wish everyone a very Happy, Healthy and enjoyable New Year.
Pleased to say that Clive is still progressing well and improving his balance better now he is seeing phsyio at local hospital. Also gradually getting his psoriasis under control but that is a long job. We would like to take this opportunity to thank everyone Family, Friends and Customers alike who have helped us get through this year with your wonderful support.
We had a hectic last few weeks before Christmas with a lot of sales of reconditioned wheels, as presents, which was lovely and we hope that all those new spinners will find they have started on a lifetime of enjoyment and relaxation.
Now looking forward to the start of a New Year What will it bring!!
Hopefully more time in the workshops getting some more Timbertop Wheels made. Lets keep our fingers crossed and wait and see!
November 2017
Pleased to say had a good show at Kendal Wool Gathering and a lovely break with family in Scotland for the week after the show and a short visit to family in North Yorkshire before returning home. Now we are back to the office and workshop taking enquiries about talks/chats/wheel surgeries & sales tables with groups, completing booking forms for shows next year and making bobbin orders. Clive is progressing and spending longer periods in the workshop now. So just keeping our fingers crossed now to get work done with no more unexpected surprises!
October 2017
Clive saw the Consultant on Wednesday and he was very pleased with Clive's determination and amazing recovery. Consultant said no restrictions on Clive now and he can gradually build up his strength and walking muscles to do everything and go everywhere. Just down to practise now! Six/seven weeks ago we were told by so many people that if Clive survived the operation he would not be able to work for 3 to 6 months it just shows what pure determination can do! Very proud of him!
Mid October 2017
An update to inform folk that despite what a certain stall holder was telling folk at Bakewell Wool Gathering this weekend, Clive is making a good steady progress and is already steadily making replica bobbins for customers and we plan on being at Kendal in two weeks time and we are already booking shows for next year too! We are not planning on retiring yet!! We are both still taking it steady and not rushing things but !!
The Doctor is very pleased with Clive and we see the consultant on Wednesday but don't anticipate anything being wrong. Please refer to our website and our blog for the correct information or feel free to phone us or email us!
October 2017
Pleased to say that Clive successfully had a major 'AAA' operation on 31st August. See our Blog for more details. Our Doctor has now renamed him 'Felix' as he reckons he must have 9 lives to survive! Any way he is recovering steadily and although we did not attend Yarndale and are unable to attend Bakewell Wool Gathering this year, all being well, we will be attending Kendal Wool Gathering at the end of the month as I will be manning the stand and Clive will be there, just taking things steady. Bit smaller stand than usual as we will not be taking the Timbertop Wheels with us but hopefully we will have a few reconditioned wheels with us as well as all the usual things see plus a few extras, really good value blending boards and an abundance of Lacemaking bobbins. Also as well as our small bags of beads there will be some trade size bags of mixed glass beads etc! Hopefully there will be some pictures of these up on the spinning and weaving accessories page shortly, I know odd place to put them but no where else at present
August/September/October 2017
Now that I have had time to contact certain family, friends and customers (by phone or email) that needed to know first, I can now inform everone else. Unfortunately we have had to cancel our attendance at all Events in September and October as Clive is in hospital awaiting an unexpected operation. More news on this when available.
I am still here 'maning the fort' with Star's assistance (well he is trying). The Folksy shop is still open and I am still selling reconditioned wheels and still reconditioning some too. So the business goes on.
Pre-orders of things such as shuttles, sock blockers, pairs of carders or niddy noddies for Yarndale, Bakewell and Kendal are being taken and will be brought to the shows by Willo Fibres who have kindly offered to help out and will have them behind their stall. So as long as we get orders at least two weeks before the relevant show this can be arranged. Email in the first instance with a phone number and I will get back to you.
However we cannot make spare bobbins etc at present as although I can make them I do not have time just now.
August 2017
Well we had a lovely time at Fibre East our new location in the Sports Hall (Jacob) proved much better for us as we were able to have virtually all the wheels standing on the floor and lots of folk were able to try them out. Now back and getting ready for a busy September/October.
July 2017
Getting ready for Fibre East where we will be in Jacob (the main building) this year instead of a marquee, so easier for you try out the Timbertop and recnditioned wheels, so do come along and see us (next to The Threshing Barn). Also a few new things on the stand as well so come and explore.
June/July 2017
Well back safely from Woolfest where we were pleased to exhibit a new TT chairwheel, the first to actually be made since losing everything in 2012. The show was unusual, in that it appeared not so many folk visiting but those that came wanted to buy; Nevertheless most enjoyable. Both busy now stock taking, getting orders for bobbins done etc and preparing for Fibre East and to get more Timbertop Wheels made.
June 2017
Almost ready for Woolfest. The last wheels have been reconditioned and listed on the recon page with a few surprises. Other items are almost ready, just a few things to have their final sand and danish oil.
May/June 2017
Had a lovely visit to the Tynedale Guild and the following weekend with the North Cheshire Guild.(For more on this see our blog) Now we are getting ready for Woolfest should have a good array of reconditioned wheels with a few surprises not yet listed so watch the webpage which will be updated nearer the time, once they are all finished. Busy working on the other stock too and apart from repeat bobbins Clive is also working on Timbertop Wheels.
May 2017
Well we had a very nice Wonderwool Wales with good sales. It was a very well organised show, as usual, and we had the added enjoyment of being at a very nice self catering chalet too so it was an enjoyable break as well. Now back home, stock take done and busy making stock to replace that sold. So we should be fully stocked again ready for the visit to the Tynedale Spinners Gathering and then the visit to the North Cheshire Guild visit. Also heard that we have been accepted for the Kendal Wool Gathering and also this week heard we are in Yarndale too, so really pleased.
April 2017
It is so nice when sun is shining. Work is progressing in workshop, working on Timbertop and getting things made for Wonderwool plus some orders too. Won't be long and we'll be getting packed up ready for first show of year.
March 2017
Well March is already flying past. We have now had firm confirmation via private email that we have the requested size stand at Woolfest, (previously had heard that we had been succesful but to check invoice when it eventually arrived as we may not have size of stand we requested!?!) still awaiting invoice and paperwork but at least we know it is confirmed!. Heard that Kendal is definitely going to be in the Leisure Centre, so looking forward to getting application form for that show.
Nice day at the Breckonock Guild on Saturday, Star attended with us and lived up to his name and has increased his fan club even more. Now busy getting ready for Wonderwool.
January/ February 2017
Well January seems to have been and gone and we now find ourselves in February.
Been accepted to attend Wonderwool Wales and Fibre East and have applied for all the other shows except for Kendal (as no forms to fill out yet). so must just wait and see about those. Also been invited to the Tynedale Spinners Gathering (May)and also the All Wales event (October) and during the year will be visiting Brecknock, North Cheshire, Lancs & Lakes and the Dorset Guild so lots to get done as well as Timbertop Wheel, Recon Wheels and refilling the stock boxes.
December 2016 / January 2017
We would like to wish all our Customers Old & New a Merry Christmas and a Happy and Healthy New Year.
We are now taking a short break for Christmas and New Year and will re-open for business on the 3rd January 2017.
In the New Year we will still be making spare bobbins but will be limiting the repair work we do so that we can get on with Timbertop Spinning Wheels.
This will means for example if folk have a broken flyer we will still try to repair it for them (especially Haldane flyers) but if they buy a wheel with no flyer/bobbins and whorl then we will not. Unfortunately folk do not realise the complexity of having to provide these items for a wheel, it cannot be done without the complete wheel to align everything. So what starts off as a cheap 'bargain' wheel becomes very expensive. and it also drastically limits our workshop space when we have Timbertop wheels partially assembled too.
November / December2016
We had a great time during our day with the Wrekin Spinners. Star really was a little star and every one enjoyed seeing him. Clive sorted out lots of wheels during the Wheel Surgery and everyone seems to enjoy my chat 'Spinning a yarn' (a play on words).
Since we came back we have been busy sorting out an assortment of reconditoned wheels as they were for Christmas gifts wheels and doing repairs and spare bobbins so we can clear the decks ready to restart the Timbertop Wheels in the New Year.
November 2016
We had a very good Bakewell WG and a very enjoyable and good Kendal W G also enjoying two nice social weekends in self catering accomodation with our friends. In between the two shows we enjoyed a few days in Scotland with the family.
On our way back from Kendal we stopped off and collected the newest member of the Jones Family and Woodland Turnery
Meet Star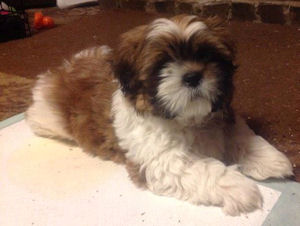 He is an 8 week old Shih Tzu with a lovly temperament and full of mischief,
---
---
If you feel that there is something that we have missed in making this web site, or you would just like to share your comments with us you can e-mail to Joan and Clive,

---
You are visitor number

since 12th of January 2005/
---
---
Contact us at
Or
Woodland Turnery
35 Lodgewood, New Inn,
Pontypool, Gwent NP4 8EQ
---